On December 20, the Head of the Laboratory Alxander Knysh gave a lecture and a seminar on the differences and similarities in approaches to the definition of the term "Islam" in various parts of the Muslim world. After a brief introduction describing the current state of intra-Islamic thought, he invited the participants to express their opinion on the proposed issues, covering various aspects of the topic. The presence of students with competence in various fields of humanitarian knowledge made the discussion lively and eventful. As a result, the participants came to the general conclusion: unity in diversity is one of the key features of Muslim thought and culture. The lecture was attended by more than 30 students and researchers from different departments of the University.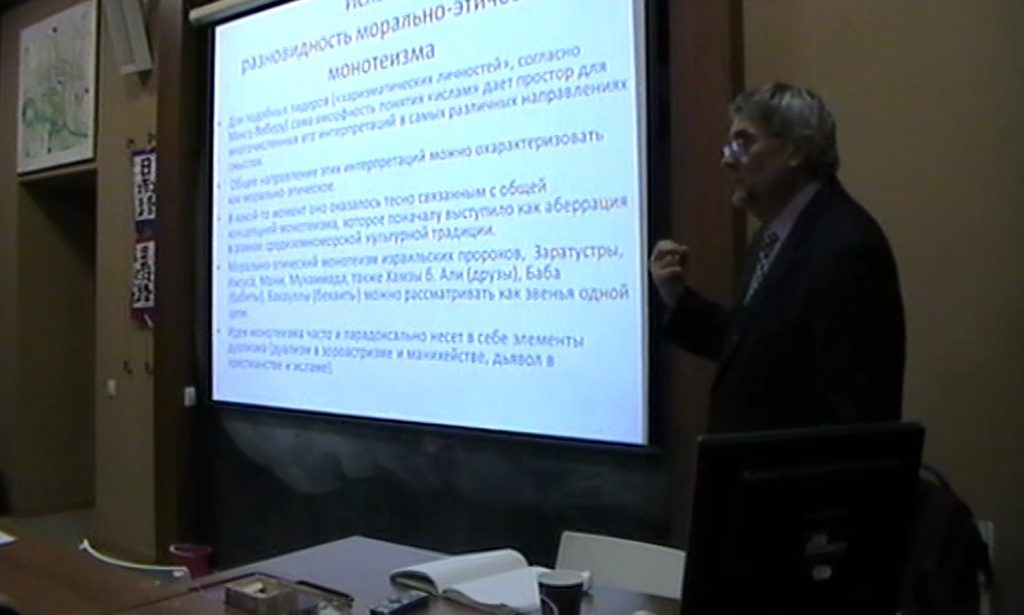 On December 13, Russian scholar of Arabic and Islamic Studies Efim Rezvan gave two lectures for students of the Department of African and Asian Studies.
The first lecture was devoted to Quranic ethnography, which studies the ethnographic realities of the Arabian society of the time of Muhammad. Efim Rezvan highlighted in detail the spectrum of sources on the early history of Islam and spoke about modern scientific approaches to the analysis of information about the sermon of Muhammad. He also emphasized the importance of studying the material culture and social structure of ancient Arabian society.
On December 11 the Loft Project "Floors" hosted a lecture "Retrospective of the development of graffiti in the Middle East: from rock inscriptions to Banksy" by the laboratory member Anna Matochkina. The lection was organized by the society "Another East".
During the lecture, students got acquainted with the centuries-old history of graffiti in the Middle East, learned about motivations of contemporary Arab artists to create graffiti The issue of the use of graffiti by Arab parties and political movements was also raised. In addition, the lecturer talked about the process of transforming public space through the placement of graffiti.